American Humane Hero Dog Awards
National awards for service, therapy and guide/hearing dogs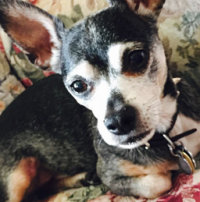 The American Humane Hero Dog Awards are the outcome of an annual, nationwide competition that recognizes America's Hero Dogs – often ordinary dogs who do extraordinary things, "whether it's saving lives on the battlefield, lending sight or hearing to a human companion, or simply providing the tail-wagging welcome a pet owner relishes at the end of a hard day." The three categories described for the awards that serve people with special needs are:
Service Dogs – Service dogs are trained to perform specific tasks for people with disabilities as defined by the Americans with Disabilities Act (ADA) other than vision or hearing impairment (see Guide/Hearing category.) They can be trained to retrieve objects, assist with balance, detect seizure or diabetic alerts, or assist those with psychiatric disabilities.
Therapy Dogs – Credentialed Animal-Assisted Therapy (AAT) dogs are part of a therapeutic plan to aid with physical, social, emotional and cognitive challenges for persons other than the dog's owner/handler. Therapy dogs work to enhance the lives of people in need, visiting schools, hospitals, veteran centers, and beyond.
Guide/Hearing Dogs – Guide and hearing dogs are the "eyes and ears" for millions of visual and hearing-impaired people, and they are specifically trained to assist by leading, obeying commands, avoiding distractions, retrieving items, alerting to danger and more. These incredible dogs are often credited by their human handler as providing independence and a new lease on life.
After voting by the American public, winners in each category are flown to Hollywood with their human friends to attend the American Humane Hero Dog Awards® gala in Los Angeles. There they walk the red carpet, are recognized in video tributes, and mingle with celebrities, both two-legged and four-legged. You can view the different winners over the years on their website. Here are some of the amazing examples for each category.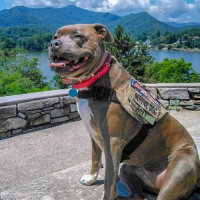 One of the 2018 Service Dog award winners is Roxy, a well trained pit bull. She is a service dog for a disabled veteran from the Iraq war. While in Baghdad during my 2006 deployment, he was blown up an IED and now suffers from from post-traumatic stress disorder and traumatic brain injury. Roxy is trained in both basic and advanced obedience, with three Canine Good Citizenship Awards. In addition, Roxy has been tasked trained to indicate on anxiety, to alert her owner before the PTSD gets to out of control. She helps provide a distraction and with simple life tasks. Her owner takes Roxy to the local VA hospital to help share Roxys ability to other Veterans.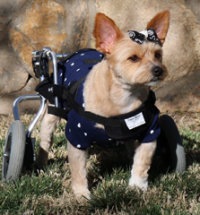 The Therapy Dog winner in 2016 is Mango, a paralyzed Chihuahua. She was stray hit by a car and scheduled for euthanasia when Emma's Cleft Palate Chihuahua Rescue nursed her back to health and placed her in a program called Emma's Rescue Reserve. This program was created to place paralyzed dogs with owners so they could work with our disabled Veterans that suffer from physical disabilities by showing them that a small dog in a wheel chair can overcome her handicap and they can too. Her owner says, "The comfort Mango brings them teaches them that "disabled" is only a word and words should never label our ability to overcome a life altering, physical change no matter what the handicap may be." Through a program called Mango's Freedom Wheels donations have been raised to purchase over 150 custom built wheelchairs to help other animals regain their ability to be mobile again, including a mini horse, pig, and many cats and dogs.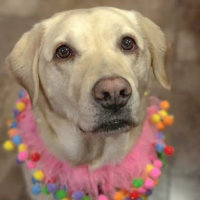 The Guide/Hearing Dog winner in 2018 is Frances, a female yellow Labrador. She is a companion to a woman who lost her eyesight when she was 32 years old, due to a rare complication after battling breast cancer. The mother of two daughters, she depends on her dog to guide her to pre-school, doctor's appointments and extracurricular activities. Franny also accompanies her to help educate kids through our Visually Impaired Education Program (VIEP). Her owner explains that, "Aimed at grades K-2, V.I.E.P. 's mission is to engage school-aged children through classroom interaction with the blind/visually impaired community; helping diminish stereotypes associated with blindness. Frances attends every presentation, a beautiful reminder about the important work of guide dogs."
---