Dogs for Reading Therapy
Therapy dogs help children with dyslexia practice reading.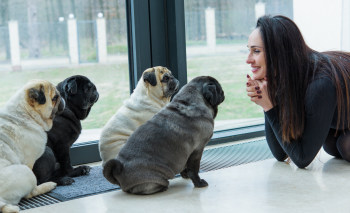 Therapy dogs have been helping children learn to read for over thirty years, according to David M. Williams, MD. of Pet Partners.
How does this amazing program work? Trained dogs and their handlers spend time with children, as the children practice reading. These aren't just any dogs. These reading companions are registered therapy animals who volunteer with their owner/handlers as a team, going to schools, after-school programs, libraries and many other settings as reading companions for children. They are trained for good behavior and companionship and also schooled in methods to help children work on their reading. In most programs, the therapy animals sits or lies quietly near the child while the child, under supervision of a teacher or an adult, reads to the animal. The dogs need to be able to handle any confusion or noise in the classroom, as well as being touched and handled, even to the extent of having their tails pulled!
Each session includes play or cuddle time, time spent reading a book and perhaps time. The children enjoy reading to a friendly animal who is non-judgmental and attentive. They enjoy socializing with these friendly dogs; this makes them feel special and encourages them to try to read. Practice makes a lot of difference in increasing reading ability, and this is much less threatening than reading in front of other students. Students who are dyslexic may need time to sound out or to sight read words, having a friendly companion listen to them can be very encouraging.
The trainers also play a role in teaching children how to read, as well. Encouraging children to read, perhaps sounding out words or asking questions. They encourage the children by interaction with their dogs and by acting as if the dog is learning also.
Dogs can be of any size, from tiny to large. Common breeds include mixed breed rescues, Shetland sheepdogs, golden retrievers, labs, and Yorkshire terriers. But they must all be well trained in behavior.
One of the largest programs is the R.E.A.D. program. Thousands of registered R.E.A.D. teams work throughout the United States, Canada, and Mexico and 23 other European, Asian, Central American, and South American countries. One of these programs is the Intermountain Therapy Animals (see Assistance Animal Resources). They explain that, "Under direction of health services and education professionals, animal-assisted therapy can promote physical, emotional, cognitive, and social improvement for people with special needs." The qualifications necessary for a therapy animal as:
Animal demonstrates behavior that is reliable, controllable, predictable, and inspires confidence in the person s/he is interacting with
Animal actively solicits interactions with people and is accepting and forgiving of differences in people's reactions and behavior
Animal demonstrates relaxed body posture, moments of sustained eye contact (dependent upon species and breed), and relaxed facial expressions
Animal is more people-oriented than animal-oriented
Animal likes being petted, touched and hugged
Animal is able to remain calm with people doing such things as speaking loudly, clumsy movements and clapping
When approached from the rear, the animal may show curiosity, but does not startle, growl, jump up, bark, eliminate, act shy or resentful
The animal can walk on various surfaces reasonably comfortably, including carpet, concrete or asphalt, tile, linoleum, rubber matting and wooden floors
Animal can be held by another person than its owner for several minutes, continuing to demonstrate good manners with no vocalizing or extreme nervousness
Animal is outgoing, friendly and confident in new settings
Another large program using therapy animals to help children read, is called Read With Me from Pet Partners (see Assistance Animal Resources). There are over 1,4000 active teams in fifty states. Handlers learn how to apply their pro-active handling and constructive communication skills in a setting with children. They explain that, "A therapy animal visit is an incentive, a motivational tool, and a non-judgmental listener ... all in one."
---